This weekly newsletter is published by Education World®, the largest FREE resource on the Web for teachers and school administrators.

Don't miss our eight other FREE newsletters.



Education World posts new content daily--bookmark us to get every new article and resource!
November 26, 2013
Volume 11, Issue 47


This week's newsletter is brought to you by the Western Governors University.

A teacher's time is valuable. Make the most of yours by earning an online master's degree on your schedule. At Western Governors University, you can earn a trusted degree at your own pace and within your budget. The WGU Teachers College is the first exclusively online university to receive accreditation from the National Council for the Accreditation of Teacher Education (NCATE).




Lesson Plans
Bookmark our home page, EducationWorld.com, and come back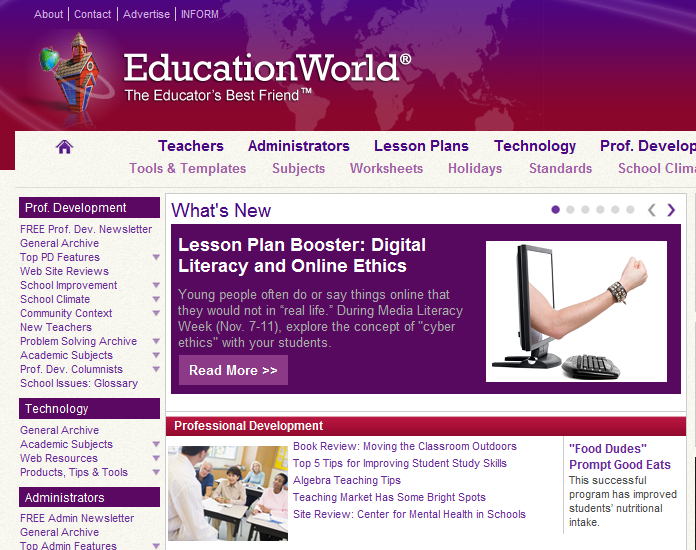 often to find new content posted daily.
---
Professional Development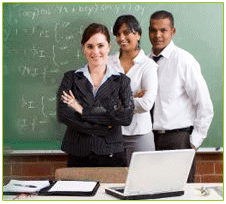 Explore the Education World Community
The new Education World Community, a FREE professional network for educators, offers teachers and administrators the opportunity to meaningfully interact with others in the field. If you haven't already, be sure to check out this powerful resource.
---
Technology
---
Administrators
---
Education Headlines
Heat Builds for School District Smoking Ban
When Nicole Keith first noticed adults smoking outside her child's school, she figured that they were flouting the rules. Then she learned that there is no smoking ban for adults on the grounds of Wayne Township schools.
Advice for LI Districts Wrestling with School Closures
Educators and parents in districts that have closed schools in recent years have this advice for their counterparts in Half Hollow Hills facing the same situation: Efficient and thoughtful transition, openness from district leaders, and empathy for those struggling with the changes are essential.
Mount Greylock Grapples with 'High School' Moniker
The School Committee is grappling with what to call it: Though it's often referred to as Mount Greylock Regional High School, it serves seventh- and eighth-graders, too.
How a School Where 91 Percent of Kids had Been Suspended for Fights Stopped the Violence
Students at George Washington Carver Academy in the past have acted out with violence. Last year 91 percent of the students had been suspended after getting in fights.
Texans Warned of Private High Schools Peddling Useless Diplomas
Literacy advocates say there's a burgeoning market of groups that claim to be private accredited schools peddling useless high school diplomas.
Kids Pay The Price In Fight Over Fixing Philadelphia Schools
Sharron Snyder and Othella Stanback, both seniors at Philadelphia's Benjamin Franklin High, will be the first in their families to graduate from high school. This, their final year, was supposed to be memorable. Instead, these teenagers say they feel cheated.
Missouri High School Under Fire for Teacher-Led Prayer Sessions
A Missouri school district has vowed to "vigorously defend" itself after a secular organization announced it had filed a lawsuit to prevent alleged teacher-sponsored school prayer sessions in high school classrooms.
Arizona High School Student Suspended After Fight Over Confederate Flag
An Arizona teenager is protesting his school's decision to punish him after getting into a fight with another student over a Confederate flag displayed on his truck.
---
Other Items of Interest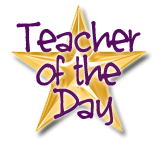 Want to be considered for Teacher of the Day?

Think about your successes and challenges in the classroom, plus a few interesting facts that make you unique. Find a clear "head shot" photo of yourself and click here to submit!
Schoolnotes.com




School-To-Home Communication



Now, New.SchoolNotes.com is the FREE platform that can help keep you, your students, and their parents "on the same page."

You can post homework, create and share flashcards, keep a calendar of upcoming events, and upload documents, images, and favorite URLs all to YOUR page! Students and parents can automatically receive notification when you update your SchoolNotes page.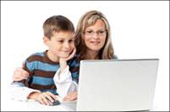 Education World®
290 Pratt St.
Meriden, CT 06450
===================================
You are subscribed to Education World Weekly Newsletter using the following email: budi21751.ifah@blogger.com. To be removed from the mailing list, click on the following URL or paste the following URL into your browser: http://mail2.educationworld.com/newsletters/mail.cgi/t/2YiktBCObJY6JiejvfMd9UnEN9o2ruEeZvFGWYUU/